Latest Perspectives
View All Latest Perspectives

---
Miley and Robin's "Blurred Lines"

Miley Cyrus' infantilized appearance and sexualized twerking makes "Blurred Lines" even creepier at the VMAs.

By Kristin Lieb and Eileen Glanton-Loftus

You know it's a strange awards show when Lady Gaga emerges looking like the accomplished grande dame.
In Monday's MTV Video Music Awards, Miley Cyrus delivered the latest cut in her efforts to break ties with her Disney background. Armed with a frisky foam finger and a wandering tongue, Cyrus stunned viewers with her highly sexual "twerking."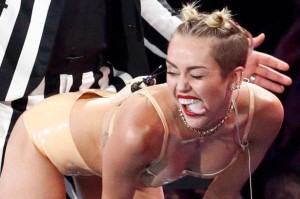 Cyrus's performance was shocking, indeed. But it wasn't at all surprising. She is just the latest in a long line of female pop stars to turn up the sexuality in brazen attempts to capitalize on youth and beauty while they can. Driven by the demands of a music industry that places women on the shelf the moment their beauty fades, most female artists follow a regimented path that simultaneously comforts the audience with its predictability and titillates us with its emphasis on sex.
Cyrus's twerking is straight out of the modern pop-star playbook, which prioritizes a star's body and sexuality over her talent and leads young female singers to constantly one-up the women who came before them. It's highly calculated: Even before Cyrus took the stage, she promised reporters that she would top the shock value of Madonna's kiss with Britney Spears, ten long years ago.
And she did. She took the most controversial mainstream songs of the year, with its rape-ish, rumbling "you-know-you want-it" chorus, and feminized and infantilized it even as she made it raunchier. We will certainly never look at foam fingers or teddy bears the same way.
Earlier this year, in my book Gender, Branding, and The Modern Music Industry: The Social Construction of Female Popular Music Stars, I mapped out the sociological and economic reasons why Cyrus, like so many pop stars before her, feel compelled to keep turning up their sexuality. Edited by Loftus, the book uses in-depth interviews with music industry veterans to trace the development of female pop stars from their child-star roots — Britney Spears, Christina Aguilera, and Fergie were all like Cyrus in this respect – through their adult superstardom.
Since MTV elevated the importance of a pop star's looks, the pace of the transition from girl to woman, and from woman to "pitchy strippers," as Kelly Clarkson put it, has become alarmingly fast. The young stars must gamble: As my sources noted, audiences tend to envision young female pop stars as the age at which they became famous. Onstage at the VMAs, Robin Thicke cavorted with a 20-year old. But much of the audience still views her as 12-year-old Hannah Montana, hence the outrage.
Cyrus got a short-term publicity spike from her sexual spectacle, but it is decidedly negative and leaves her nowhere to go in the future. She's now at risk of flaming out before she can buy her first legal drink. But the industry has a solution to that. There's a steady supply of fresh young stars waiting in the wings for their turn to morph into prime-time maneaters.
Selena Gomez is four months older than Miley, fresh-faced, and still basking in the halo effect of her Disney career, even as she takes preliminary steps out of it. She's got a new single, "Slow Down." That's what we all need, right? No more twerking, no more foam fingers, no one threatening to "domesticate" us against our will.
Oh, wait. This is what she wants: "You know I'm good with mouth-to-mouth resuscitation. Breathe me in, breathe me out, so amazing … I just wanna feel your body right next to mine, all night long. Baby, slow down the song."